JOIN US
Simply email our Hon. Secretary, Gill English info@escs.org.uk
Choir rehearsals take place every Tuesday (in term time) from 7.45 - 10pm at the Centenary Hall, Essendene Road, Caterham CR3 5PA
We are always pleased to welcome new singers to our friendly choir, and since there are no auditions why not give us a try?
Our rehearsals include an element of tuition from our conductor Ian Kennedy, and are always enjoyable, especially when he recounts amusing anecdotes from his experiences as a member of the BBC singers and as a professor at the Guildhall.
On the Thursday prior to each concert we hold an extra rehearsal. This is important as it is usually held in the concert venue. Prompt and regular attendance is required as rehearsal schedules are tight. Should a member miss many rehearsals in any given term, the conductor and committee may suggest that it would be inappropriate for that member to take part in the term's concert.
Our Diary Dates Sheet (under Members' Info) gives all rehearsal dates, concert day schedules and information for the whole season.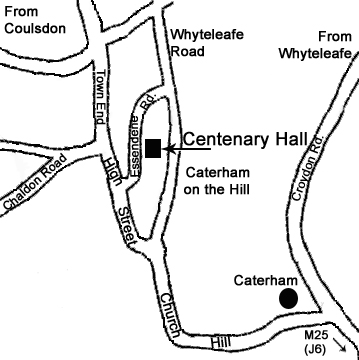 For a detailed map please click here